With FaceTime and other image-focused social media apps becoming more of a fixture in our lives, it's worth considering how much they're affecting our self-image. After all, we're seeing more of our own faces than ever, and it's bound to make us more aware of concerns we may not have noticed before. One example: Many facelift patients at my Boston-area practice tell me that seeing an unflattering selfie angle was what inspired them to pursue plastic surgery.
Cosmetic treatments do in real life what filters do on your screen: They tweak certain aspects of our image to highlight the features we love most. Procedures such as facelifts can create real-life transformations that allow patients to feel more confident and camera-ready than ever.
A New Angle on Rejuvenation
Social media apps such as FaceTime, Snapchat, and Instagram can certainly influence the decision to undergo a facial rejuvenation procedure. Sharing how we look has become a big part of online communication, and people want to feel open and excited about participating, rather than let their insecurities get in the way.
We've all had the unfortunate experience of opening the front-facing camera and seeing ourselves from a less-than-flattering angle—especially one with the camera pointed up, which reveals the lower face and neck in sharp detail. This is often an eye-opening moment for individuals whose sagging skin and jowls had previously gone unnoticed.
How a Facelift Can Help
If you feel like your lower face isn't fully representing your inner youthfulness, a facelift may be the right solution for you. This surgical procedure addresses concerns such as sagging in the cheeks, jowls, and loss of definition along the jawline to reveal a naturally refreshed and refined look. It can also smooth nasolabial folds and marionette lines around the chin and mouth to help you feel more youthful when you smile for the camera.
Your Facelift Experience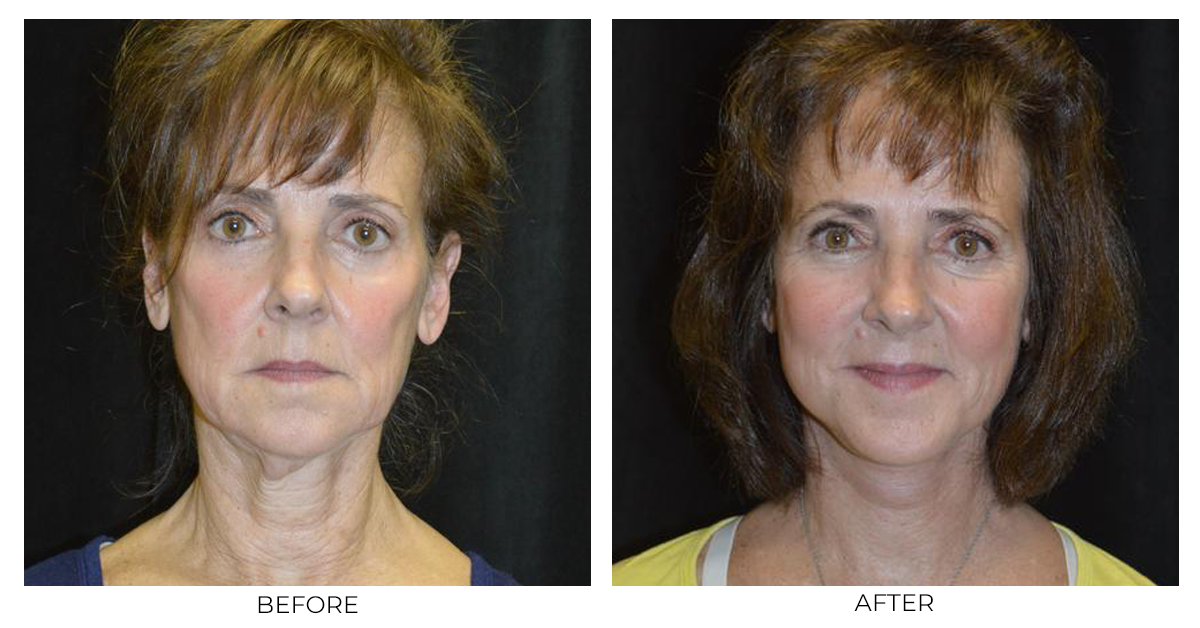 Throughout my years of performing facelifts, I've focused on mastering the art of creating a custom-tailored rejuvenation for each patient. One of the key components of my technique is calculating the angle of most natural lift, which prevents any undesired effects and creates the most natural looking result. During consultations, I use Crisalix 3D imaging to help both the patient and me clearly envision the desired outcome.
While the surgery does involve some downtime, I use my skills and experience to limit trauma to the face, which shortens the recovery time and makes it as comfortable as possible. The incisions are hidden within the hairline and around the ears, so they are inconspicuous once they heal. The result is an overall rejuvenation without any obvious signs of a procedure.
The Liquid Facelift

If you're not ready to undergo a surgical procedure, a nonsurgical liquid facelift is an increasingly popular alternative. It's a great option for patients who want to look younger without much, if any, downtime. This treatment can create remarkable results in very specific areas of the face, and can help solve issues including:
Nasolabial folds or marionette lines around the nose, mouth, and chin
Flattened or sagging cheeks and jowls
Crow's feet, frown lines, and forehead furrows
A liquid facelift typically involves a series of BOTOX® Cosmetic and dermal filler injections, which work to relax specific muscles and restore lost volume for a more youthful look. This approach has a shorter lifespan than surgery; BOTOX typically lasts a few months and dermal fillers gradually dissolve over a year or so, whereas surgical results can easily last for many years.
The best way to determine the most effective path for you is to come in for a personal consultation. When we meet one-on-one, I'll be able to evaluate your concerns up close and learn about what you hope to gain from the treatment. Together, we'll create a custom plan that will help you look and feel your best—both on camera and off.
If you're interested in learning more about the best facelift options in Boston, please contact us online or call (781) 237-7700 to request a consultation.