Christopher J. Davidson, MD
Fraser Medical Building
332 Washington Street, Suite 100
Wellesley, MA 02481
Phone: (781) 237-7700
Monday–Friday: 9 a.m.–5 p.m.

Facelift Case #239
*Keep in mind that each patient is unique and your results may vary.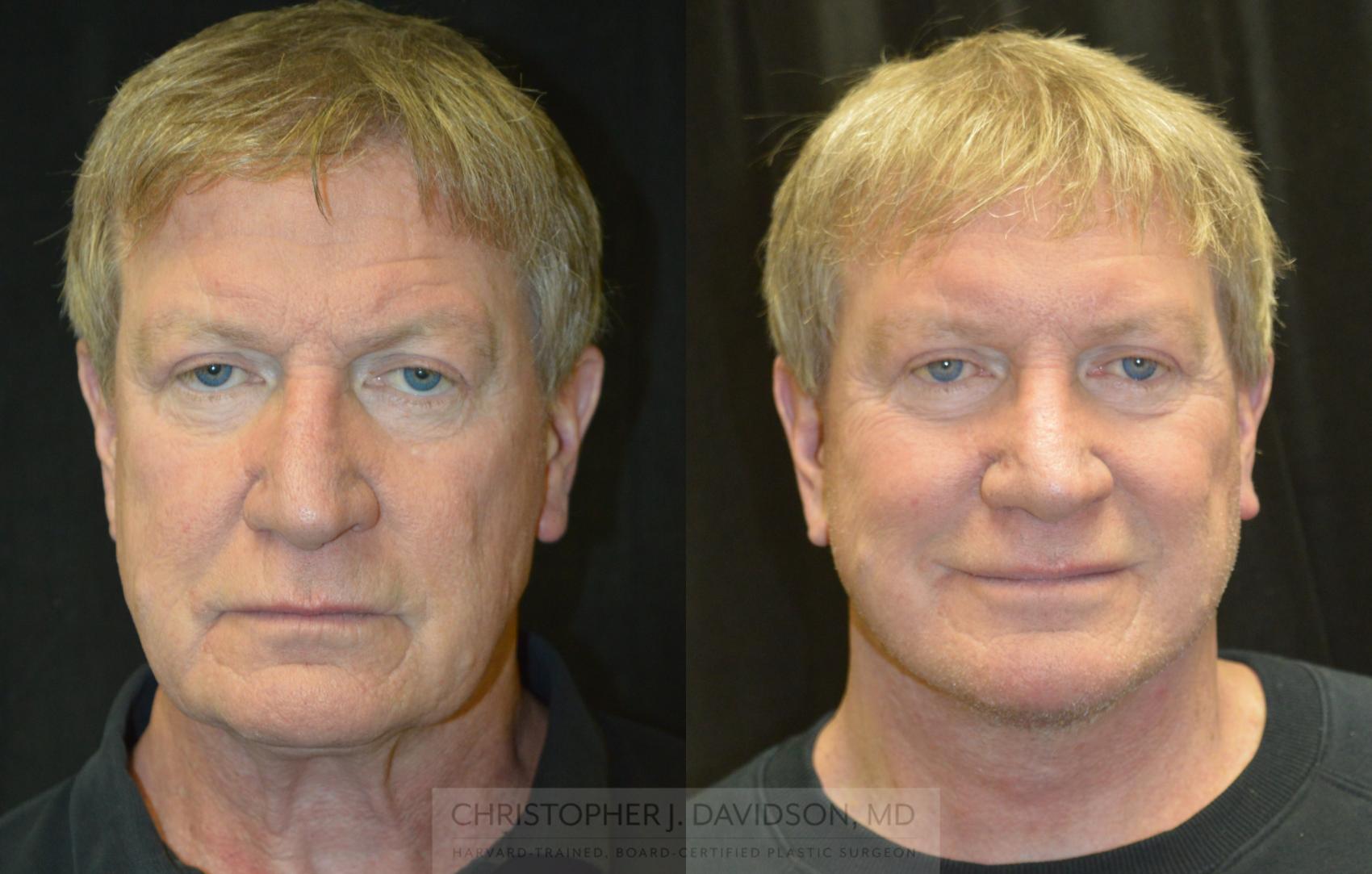 Before & After

This 70-year-old gentleman presented to my Boston area office complaining that he felt that his external appearance did not match his youthful personality. He also expressed that he wanted "the outside to match the inside." We discussed at length what specific facial features were most problematic. We focused upon the 2 bands in his neck. Additionally, the patient was bothered by his jowling and hollowed out cheek areas.
Together, the patient and I created a plan for a mid facelift/neck lift. My goal was to tighten the skin and muscles of the neck, elevate the jowl, and re-suspend the soft tissues of the cheek area in the higher position that they used to occupy.
About 2 months before this postoperative photograph was taken, the patient underwent a facelift/neck lift and a platysmaplasty. Along a deeper plane, I also elevated the SMAS (submuscular aponeurotic system). By re-suspending the SMAS, I was able to elevate the jowl and add permanent fullness to the cheekbone areas. A small incision was made underneath the chin so that I could sew the 2 muscle bands to each other and remove extra fat from the area.
The patient is thrilled with his result. He does not feel that he is pulled or over done. Friend tell him that he looks good but no one has figured out his secret. We have achieved the natural appearance that we were both seeking and the patient could not be happier.
Surgeon: Christopher J. Davidson, MD
Back to Top